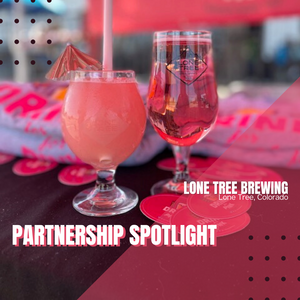 Tell us about your brewery/business: Mike: Here at Lone Tree we are a craft brewery that opened our doors in 2011 near Park Meadows Mall as the first brewery in Lone Tree, Colorado. Our neighborhood-focused, family-friendly-dog brewery and tasting room regularly hosts community events that gather around a stylistically diverse lineup of flagship, seasonal and limited release beers. What made you want to get involved with nonprofits, and more specifically Drink for Pink? Mike: Here at Lone Tree Brewery we have been doing a 'Charity of the Month' program and Drink for Pink was one of the charities to apply and we've been great partners...
---
First posted to IG: August 20th, 2021 Spoiler alert: WE DID IT! Hello Drink for Pink friends! Although our 5-year anniversary (that darn 2020) didn't quite go as we had planned, we are excited to jump back in this year & see all your smiling faces. We have a HUGE milestone this year (that we know we will hit with your help)! We are on track to reach $100k in Breast Cancer Research!.How are we going to do that you ask? Events, merch & donations!.:EVENTS:We are excited to announce two of our favorite events returning this year. Join us October 2nd...
---
First published: September 15, 2016. By Jeremey Duvall DFP co-founder Drink for Pink has always been about a local Colorado connection, and we're fortunate to have so many amazing breweries in the state to partner with and learn from. One of those breweries, Factotum Brewhouse, has been with Drink for Pink from the very start. They hosted one of our first events in October of 2015. We were eager to come back for round two. This year, we wanted to do something a bit different than the traditional one-night event model. Factotum Brewhouse is a unique in that they welcome...
---
First published: September 29, 2016. By Jeremey Duvall. DFP Co-Founder.  Our kickoff event at Rails End Beer Company is tonight, and we couldn't be more excited to get this October rolling. We have several awesome events throughout the month and into the rest of 2016. Trust me, they're going to be awesome! Last year, during our kickoff event at Ratio hosted by the amazing Basics Team, someone asked us what our fundraising goal was for Drink for Pink in 2015. It was our first official year in business, and we each had a slightly different goal in mind. I shouted $10,000....
---
First published: July 8th 2015. By Jeremey Duvall. DFP Co-Founder.   The most recent donations I remember making are the ones attached to credit card machines at retail and grocery stores. "Thank you for shopping at PetCo, would you like to donate $1 to rescue animals?" "Thank you for purchasing a bag of salt & vinegar Chips at Conoco, would you like to donate $5 to the Children's Fund?" My answer is always yes without having any idea where my money is going and what it is actually doing. Why is that? Is it because we trust non-profit and charitable organizations...