• awareness • breastcancer • colorado • community • dfp • doctor • donation • drinkforpink • lab • money • nonprofit • october • partner • raise • research • transparency
Breast cancer continues to affect the lives of countless individuals and their families around the world. However, thanks to dedicated researchers like Dr. Michelle Williams, there is hope for a brighter future. Dr. Williams, recipient of our 2021 donation, is working tirelessly to unravel the complexities of breast cancer and find innovative solutions to combat it. Dr. Williams' journey in the field of breast cancer research began at an early age. In high school, she had a unique opportunity to engage in laboratory science thanks to a program initiated by the University of Pittsburgh. This experience ignited her passion for...
---
• breastcancer • community • crossfit • dfp • event • money • october • raise • research • transparency • westminster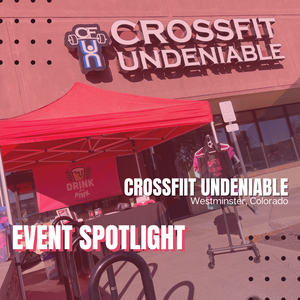 We are thrilled to share this event spotlight from our Crossfit Undeniable fundraiser this past weekend. When Spencer (owner) reached out in September, we were in full swing of our DFP events and were nervous to add something to the calendar without proper time to plan. Regardless of the time frame, we are always excited at the opportunity to raise money for Breast Cancer Research. Not surprising, the crossfit community, and specifically CrossFit Undeniable family, came together to help us raise over $700 in a 2 hour time frame! Fun anecdote: Drink for Pink followers who have been with us from...